AlpenAid
Our concept is: Building Capacity from the Community Up
Our goal is: To achieve a positive long-term impact on health systems


We strive to build partnerships among all denominations.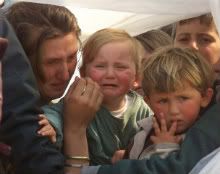 This model empowers communities to become more sustainable. We access a base of over 28,000 trained medical volunteers in North America. We recruit doctors, nurses, students, and other health care workers to educate them through a combination of hands-on training, classes, seminars, and individual mentoring.
We build networks that allow medical experts to access remote locations and extreme climates using limited technological resources. Also in partnership with the Association of General Contractors, volunteers build, set up, and operate medical clinics for the poverty-stricken, underserved, at-risk communities of the world.
We assist community-based organizations with capacity building efforts, which include technical training and organizational effectiveness. This allows organizations to restore self-reliance and better monitor health networks in their communities.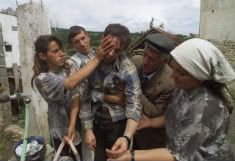 We also assist local, regional, and national governments, agencies, and institutions. Good governance perpetuates a more successful health system that can ensure on-going access. In addition, we encourage, support and facilitate initiatives that are participatory, which increase the effectiveness of health service delivery networks.
With the transfer of necessary skills to communities in need, they can become self-reliant, ensuring that quality health services and support systems are accessed. Emphasis is on primary health care, which is a viable alternative to the more costly traditional emphasis on acute care services. The hallmark of a primary care system lies in the community-based health care worker. They perform essential health care education, disease prevention, and curative services. They are the link between the rural nomad, farmer, mountain dweller, and the city-based health care system.
Dr. Anne-Marie Gouvet, a decade long member of our board, is a strong example of Alpenaid's mission.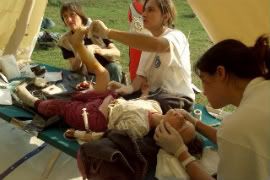 She has had plenty of opportunities to practice her art over the years. Starting with a three-month clandestine mission to Iranian Kurdistan in 1981, at the end of which she escaped murder and was thrown in a Turkish jail, she enrolled with Doctors of the World and has since traveled to the worst places on earth to provide emergency medical help to people that most needed it: Lebanon at the time of civil war, Chad, Rwanda at the time of genocide, Ethiopia, Ivory Coast at the time of civil war, Iran for an earthquake, Kosovo in the Balkans at the time of ethnic cleansing, Pakistan, and Afghanistan. She now travels to Mongolia twice a year to operate on children who suffered terrible burns in a country where the harsh cold makes that a common occurrence. Her diary, Les ailes de la vie, won a travelbook award in 2005.
Pictures by Jerome Delay
---
LATEST NEWS

The American Refugee Committee's emergency response team is on the ground in Haiti, bringing relief to some of the millions who were devastated by last week's earthquake. We've flown in experts from all over the world in health, sanitation, water, protection, security, and logistics.
are working around the clock to reach as many people as possible, as quickly and effectively as possible. We are working in Port-au-Prince, Fond Parisien, to the east, and in Jimani, just across the Dominican Republic border. The American Refugee Committee has been responding to emergencies for over 30 years. The Tsunami, the 2005 Pakistan earthquake, Hurricane Katrina, Darfur, the Balkan wars, Iraq, Cyclone Nargis — these are just a few of the emergencies we've responded to. After the initial emergency is over, we stay, helping people rebuild their homes and livelihoods and take back control of their lives.
Stay tuned for updates on what we're doing in Haiti and how you can help. Your support is urgently needed. None of this would be possible without the partnership of our donors. Contributions in any amount can save lives. Please make a donation online today. Thank you.

The American Refugee Committee is an international nonprofit, nonsectarian organization that has provided humanitarian assistance and training to millions of beneficiaries over the last 30 years. ARC works with refugee communities in 7 countries around the world, helping people regain control of their lives. The people ARC serves have lost everything to events completely beyond their control. ARC provides shelter, clean water and sanitation, health care, skills training, microcredit education, protection and whatever support we can to let people begin again. ARC works with its partners and constituencies to provide opportunities and expertise to refugees, displaced people and host communities. We help people survive conflict and crisis and rebuild lives of dignity, health, security and self-sufficiency. ARC is committed to the delivery of programs that ensure measurable quality and lasting impact for the people we serve.
To donate to the relief in Haiti visit The ARC's website by clicking the following link:
http://www.arcrelief.org/site/PageServer
---

The Ladakh Heart Foundation is a non-profit, non-political organisation which was formed and registered under the J&K Government Registration and Societies Act on the 20th February 1997. Ladakh is one of the largest districts in the Indian Himalayas, lying at an altitude of 3/3500m. The high altitude, extremely cold environment and difficult living conditions result in a high incidence of congenital and acquired heart disease, as well as causing a high prevalence of respiratory problems.
Ladakh is an isolated mountainous land on the western edge of the Tibetan Plateau. Until the middle of the 19th century, it was an independent Tibetan Buddhist kingdom, but since that time it has been part of the Indian state of Jammu and Kashmir. Modernization did not even begin to reach Ladakh until the middle of 1970's. There were no roads, no electricity, no indoor plumbing and no allopathic hospitals or clinics. When Nehru flew into Ladakh to see this new region of his new country, he rode by horseback from the airfield at which he landed to the capital.
Since it was established three years ago the Foundation and all those involved have worked hard to help the people of Ladakh in teaching them more bout the risks of heart disease, and in raising money to improve Ladakh's facilities for the treatment of such conditions.
Today, much of Ladakh still exists in this same state. Two slim mountainous roads connect Ladakh to the rest of modern India, and both of them are closed by snow for eight months of the year. Leh, the capital of Ladakh, now has two hospitals – neither of which has a modern operating room, and a small corps of dedicated physicians – most of whom are general practitioners.When a person has a heart problem in Ladakh, more often than not it goes undiagnosed – either because the patient has no access to a physician, or because the necessary diagnostic expertise and/or diagnostic equipment are not available.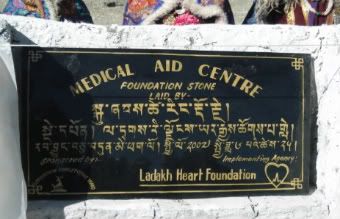 Traditionally, the only remedy available to a Ladakhi heart patient was to go to New Dehli to get diagnosis and treatment, if they were lucky enough to have the resources and health to do so.
The Ladakh Heart Foundation was created, in 1997, to address and resolve these problems. For years, the Foundation has been providing the best possible medical care its resources would allow to Ladakhi heart patients. The Foundation is now in the midst of building a hospital with two operating theaters that will specialize in and vastly improve its ability to diagnose and treat heart disease.The building in which the hospital will be housed is nearing completion. This proposal is a request for funding to support the purchase and installation of the medical equipment that will make the Ladakh Heart Foundation Hospital operational and give it the ability to give its patients state of the art diagnosis and treatment for cardiovascular disease. This will include the equipment that will be used to create two operating theatres in which open heart surgery can and will be performed.
Your compassion and support will make a great difference to the lives of the people of Ladakh. Here's how you can help:
Become a supporter of the Ladakh Heart Foundation by contributing whatever you can. We shall be grateful for any contribution that you can give no matter how small or large. Suggestions would be most welcome.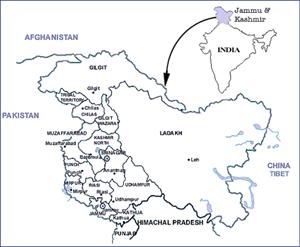 "It is not enough to be compassionate. You must act. There are two aspects to action. One is to overcome the distortions and afflictions of your own mind, that is, in terms of calming and eventually dispelling anger. This is action out of compassion. The other is more social, more public. When something needs to be done in the world to rectify the wrongs, if one is really concerned with benefiting others, one needs to be engaged, involved."
His Holiness the Dalai Lama






To learn more about this organization or to get involved, visit their website by clicking the following link:
http://www.ladakhheart.com