Alpengroup Officers
David A. Yoder – Chairman
As a successful businessman working in human resources and in the environmental field, David also brings to the table an extensive background in the nonprofit world. As Board member and officer of many nonprofits from the San Francisco War Memorial and Performing Arts Center, the Chamber of Commerce, San Francisco Film and Video Arts Commission, to the Salvation Army, he is a proven leader in this arena. He is also a recipient of the San Francisco Guardsmen's Golden Eagle Award and co-founder of the San Francisco Multimedia Commission. David also brings international experience to Alpengroup's mission both in his work that has taken him around the world, and in his position as Deputy Chief of Protocol in San Francisco.


---
Philip R. Caterino – President
Phil has spent the last thirty years working to preserve and conserve the precious resources in the world. He was responsible for a $50 Million Dollar historic and environmental purchase along the East Shore of Lake Tahoe. He has raised millions of dollars to preserve land and water in the Sierra Nevada as an enduring public resource and to protect and enhance the Sierra. He has directed onsite scientific research that is committed to the preservation of Lake Tahoe. Following his direction, his staff has promoted and freely disseminated the research concerning fresh water to the public and aided in the scientific education of college and university students both in the United States and abroad. He has negotiated complex and innovative solutions with many different strategic partners which has led him to develop the ability to simultaneously manage multiple priorities and projects within the same framework around the world.
---
Nicole Misfeldt – Secretary
Nicole is the owner of Lake Tahoe Deluxe Vacation Rentals in North Lake Tahoe, California.

A life-long resident of California, she has spent half her life along the coast of California working on conservation issues and she has carried that passion to the mountains where she has spent the other half of her life on local issues. She has carried her passion for the environment to the Tahoe area where she sits on a number of boards that work on conservation and recreation issues. She also has a passion for the human needs and has managed the Jimmy Heuga events at Squaw Valley for a decade, raising thousands for MS and every year sending a needy individual to the MS clinic in Colorado. Nicole is proud to assist with Alpengroup projects whenever possible.
---
Daniel Harris – Treasurer
Dan is a Visual Artist who lives and works in Courtland, California.

He has been very active in the environmental community of the Sacramento River Delta and has donated numerous works of art to fundraising auctions. He is also well known for his graphic designs for events and publications that he generously donates for worthy causes and events up and down the Sacramento River. Dan currently has been instrumental in the design of the new Lake Tahoe specialty license plate for the State of California. The funds from the license plate are administered by the California Tahoe Conservancy and directly fund non-motorized recreation at Lake Tahoe. He also is the lead designer of the graphics for the outreach program for the reintroduction of the Lahontan Cutthroat Trout to the Lake Tahoe Basin. His outreach work on conservation issues makes "Wisdom through Art" a mantra for the entire staff at Alpengroup.
---
Alpengroup Board of Directors
Leo Poppoff – (1924-2008)
Leo Poppoff was an extraordinary atmospheric physicist and Lake Tahoe environmentalist. After receiving his BA in Physics he attended UC Berkeley and Stanford University to pursue graduate studies, and honorably served in the U.S. Army Air Force during WWII. Leo employed for over thirty years as a physicist with Naval Radiological Defense Lab, Stanford Research Institute, and NASA-Ames Research Center. Leo was an ardent crusader for the preservation of Lake Tahoe, penning "Basin Watch," a weekly newspaper column for over twenty years and serving as an environment correspondent for Tahoe Quarterly. Following his retirement he was a member of the Advisory Planning Commission of the Tahoe Regional Planning Agency, the Lahontan Regional Water Quality Control Board and the Tahoe Resource Conservation District, to name a few.
---
Nancy Miller

Nancy was the Special Assistant to Fabian Nunez, Speaker of the Assembly, State of California. Her political career spans decades in California and includes running the Governor's Race for Kathleen Brown, principal advisor for the Lt. Governor Cruz Bustamante, Los Angeles Mayor Antonio Villaraigosa and Governor Gray Davis. Known as the Queen of California in political circles because of her vast knowledge of the nuts and bolts of California's government, she is often called upon by members of both parties to help with complex issues.
---
Dr. Rudy Douthat
Known as the Father of Emergency Medicine, he spends his winters in Sour Lake, Texas and his summers in Glenbrook, Nevada. As a founding member of Society for Emergency Physicians, he recently decided to retire from practice at the age of 76 and to devote his time for causes that he feels he can be of service to. He will be the driving force in recruiting volunteers for AlpenAid and developing the training program for the project.


---
Kenneth Erickson
As an environmental activist and yachtsman, Ken divides his time between the Berkeley Marina and his home in the beautiful meadows of Kirkwood, California. Ken has been an ardent supporter of environmental and conservation causes throughout the Sierra Nevada and the Pacific Coast, working on coastal water issues regarding pollution, fisheries, and the effects of farming pesticides on the Bay Area sanctuaries.
---
William David Beck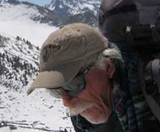 David's work in the field of avalanche training began at UC Berkeley where he received his BS in Conservation of Natural Resources in 1972. Working as an avalanche consultant during this time, he was given a taste for what would be a lifelong pursuit of avalanche study and expertise. David has instructed at UC Berkeley, the National Avalanche School, Lake Tahoe Community College, and Western Nevada Community College to name a few. Among his many accomplishments, he has written the guidebook Ski Touring in California and has trained generations of avalanche rescue dogs for over 30 years. David is also the owner, coordinator, and training officer of Sierra Ski Touring.
---
Alpengroup Advisory Board
Dr. Scott Stine, USA – Paleoclimatologist, University of California, Hayward
Scott is well known as the expert witness that saved Mono Lake from the Los Angeles Power Company. He has worked extensively in the Mono Lake region, throughout the Sierra Nevada, and in Patagonia. He is the hero of the Mono Lake Committee and any other environmentalist who takes on the big power brokers.
---
Lobsang Sampra, Tibet – Tibetan Schools, Dharamsala
The Venerable Losang Samten was born in 1953 in Ribuce Chang, Tibet. He escaped with his father, mother, and sister in 1959 to Dharamsala, India, seat of the Tibetan government-in-exile and residence of His Holiness, the Dalai Lama. He has had the honor and joy of serving His Holiness as his personal attendant. He came to the United States to demonstrate the meditative art of sand painting in 1988. In 1989 he founded the Tibetan Buddhist Center of Philadelphia, and he later established other centers in Hartford, CT, El Paso, TX, and Reno, NV. In 1995 Losang gave back his monastic vows and entered a lay practitioner's life. His knowledge and skills contributed to the truth and beauty of the film Kundun, as he was employed as religious advisor, master sand painter, and actor. Dedicated to the dharma, he continues to travel extensively, sharing his vast knowledge of Buddhist philosophy and meditation, and his skill in the Tibetan ritual arts.
---
Philippe Gouvet, France – Professor, University of Pau, France
As an expert on North American studies at the University of Pau, France, Philippe has also helped in building bridges with the Basque Communities in the Pyrenees. He was instrumental in helping start the intern program for foreign students with the Tahoe Baikal Institute and the Thunderbird Lodge. His wife Anne-Marie is a physician / anesthesiologist with Médecins du Monde and has an award-winning book about her missions with the organization ("Les ailes de la vie" / The Wings of Life).
---
Hank Birbaum, Russia – Chief Ranger, Baikal National Park, Lake Baikal
As the only American Ranger in the Russian Park Service, Hank has accomplished what everyone would think was impossible. He has overcome all of the cultural problems that face us around the world and has built consensus in a region where even the Russians themselves did not succeed. He will give us enormous advantage in working in that part of the world and with multi-cultural projects.
---
Dr. Jean Nicolas Haas, Austria – Geobotanist, University of Innsbruck
Dr. Haas works and lives in the European Alps. He has become one of the few experts in the science of interpreting ancient avalanches. These avalanches made out of snow and ice belong to the most destructive natural hazards n the High Mountain regions worldwide. This has become a new important facet of the climate puzzle that has become the most decisive issue to confront the science community in a decade. His work with students around the world is an important part of the work that Alpengroup will need to tap into to stretch the most out of the funds that we will be spending on our projects throughout the mountains of the world.
---
Dr. Anne-Marie Gouvet
As an anesthesiologist, also specialized in resuscitation, and pediatrician, Dr. Anne-Marie Gouvet has had plenty of opportunities to practice her art over the years. Starting with a three-month clandestine mission to Iranian Kurdistan in 1981, at the end of which she escaped murder and was thrown in a Turkish jail, she enrolled with Doctors of the World and has since traveled to the worst places on earth to provide emergency medical help to people that most needed it: Lebanon at the time of civil war, Chad, Rwanda at the time of genocide, Ethiopia, Ivory Coast at the time of civil war, Iran for an earthquake, Kosovo in the Balkans at the time of ethnic cleansing, Pakistan, and Afghanistan. She now travels to Mongolia twice a year to operate on children who suffered terrible burns in a country where the harsh cold makes that a common occurrence. Her diary, Les ailes de la vie, won a travelbook award in 2005.
---
Dr. Alison Murray, USA – Molecular Microbial Ecologist, Desert Research Institute
Having researched at the Antarctic Peninsula, McMurdo Dry Valleys of Antarctica, the East Pacific Rise, and Yellowstone National Park, associate research professor Dr. Alison Murray is a leading researcher studying microorganisms in these ecosystems. Her approach utilizes molecular biological and genomic methods, and recent projects focus on developing genomics technologies, Antarctic microbial biology, and hydrothermal microbial biology. Over the years she has not only contributed to a wide range of research publications, but she has also brought her expertise to Lake Tahoe, studying the diversity of microorganisms throughout the lake.
---
Dr. John Arnone – Research Professor, Desert Research Institute
Dr. John Arnone's research focuses on the effects of climate change on terrestrial ecosystems, plant physiological processes, plant growth and survival, and plant populations and communities. Some of Dr. John Arnone's areas of research are: ecosystem ecology, global change biology, invasive species effects on ecosystem function, and vegetation-soil water interactions to name a few. He emphasizes an inter-disciplinary approach to research, uniting and collaborating across the board to further understand and study these major issues. He has contributed to a wide range of research publications, as well.
---
To learn more about how we are working to PROTECT LAKE TAHOE click on the following link: