Welcome!
Alpengroup is a 501(c)3, not for profit corporation whose mission is to build strategic public and private partnerships to foster a sustainable environment for the benefit of present and future generations. With a focus on solving immediate problems with inventive and decisive intervention while recognizing that only long term constructive planning and restoration will provide sustainable solutions for the future.
---
PROTECT LAKE TAHOE
---
LATEST NEWS
Alexandra Cousteau

Visits The Tahoe Divers Conservancy



"Everything you do makes a difference. Let it be a positive difference for you, your family, your community, and the planet." Alexandra Cousteau

Alexandra Cousteau was invited to speak at the 2010 Siebens Binz Tahoe Forum at Sierra Nevada College on August 28th. The Tahoe Divers Conservancy had the opportunity to meet with Alexandra and discuss some of the issues at Lake Tahoe and issues that other Diver Conservancies are facing around the world. Alexandra, a diver, founded the Blue Legacy which is an initiative started in 2008 to engage individuals around the world through telling the story of our water planet. Blue Legacy works to: to help shape society's dialogue to include water as one of the defining issues of our century and to inspire people to take action on critical water issues in meaningful ways

Alexandra Cousteau grew up with the ocean. At four months old she went on her first oceanic expedition with her family, father Phillipe Cousteau, mother Jan, and grandfather Jacques Cousteau. Jacques was the inventor of SCUBA, or self contained underwater breathing apparatus, and a pioneer in nature documentary filmmaking. Through Jacques Cousteau's documentaries, the world saw the secrets of the oceans for the first time. It seems that Cousteau's love for the ocean has been passed on to following generations. Alexandra co-founded EarthEcho International and founded Blue Legacy and the Shark Alliance. She has traveled around the world, spreading the word about the oceans' current condition and what we can do.
"I have many heroes. Some are well known and others are not. But they are all people who inspire, challenge and empower me to see the world in new ways and consider new solutions to old problems. They make me want to be the best I can be."

Blue Legacy
Blue Legacy is an initiative started in 2008 by Alexandra Cousteau to engage individuals around the world through telling the story of our water planet. Blue Legacy works to: to help shape society's dialogue to include water as one of the defining issues of our century; to inspire people to take action on critical water issues in meaningful ways.
People throughout the world are increasingly aware that our environment is changing: natural resources are disappearing, pollution is widespread, the climate is becoming more volatile, diseases spread more rapidly, and ways of life are vanishing. Water is at the heart of these issues and is the primary vehicle through which climate change will be felt.
Blue Legacy is a catalyst for action and change—promoting ideas for innovative solutions that individuals and communities around the globe can implement to address the issues facing our water planet. We believe that for too long, activists have asked people to protect environmental treasures that most individuals have never experienced. Our projects leverage film, educational tools and traditional media along with emerging technologies and social networks to help "mainstream" audiences around the world experience the people, places and systems affected by critical water issues. We believe that every citizen of the world can be an environmentalist and are committed to shaping daily conversation to include critical water issues.

Alpengroup awarded 10 year contract by State of California for beach front concession at Lake Tahoe

Alpengroup has secured a contract for up to 10 years to be the concessionaire at Patton Landing in Carnelian Bay. This year-round operation will mean free access to Lake Tahoe for non-motorized watercraft, a small sledding hill, plowed access to parking, and food vendors who will all have a connection to Lake Tahoe.

"We're keeping it as much Tahoe as we can," Phil Caterino, executive director of Alpengroup, told Lake Tahoe News. "It will also be opened as a place for community groups to do fund raisers."

Alpen Sierra Coffee and Tahoe House Bakery are some of the businesses involved in Blue Warrior Café, which is slated to open in March at the site. The year-round facility will have hot drinks, food and environmental information.

The agreement with Alpengroup was approved by the California Tahoe Conservancy board on Jan. 29.

The state agency acquired 7.1 acres in Carnelian Bay between 1986-92 to give the public access to the lake. In 1999, $1.8 million in improvements to the 2.2-acre Patton Landing site were completed – including 21 parking spaces, picnic facilities, rest rooms, patio, 723-square-foot structure and environmental interpretive panels.

"A lot of people are excited," Caterino said of the fact the area will be open year-round with free access to the lake. Lack of parking for kayakers is a huge issue at Lake Tahoe, as is public access to the water.

Part of Alpengroup's mission statement is, "To build private and public partnerships to solve immediate problems with inventive and decisive intervention while recognizing that only long term constructive planning and restoration will provide sustainable solutions for the future."

Our goal for the site is to enhance regional lake access and beach recreation opportunities and to incorporate wetland restoration, and improved water quality treatment opportunities, wildlife habitat, and scenic values.

All proceeds from the sales at the Blue Warrior Cafe goes directly to the projects at Lake Tahoe.






Alpengroup is Recognized for it work at Lake Tahoe by the Patagonia Environmental Grants Program


We are so honored to be recognized by a company like Patagonia! Every year, Patagonia contributes at least 1% of it's sales to nonprofits working on the frontlines of the environmental crisis. This tradition of giving goes back to 1973, when a young activist knocked on our door with a plan to restore the Ventura River in California. A lot has changed since they gave that first grant – but their commitment to protecting and restoring wild places remains constant and unwavering. In a year with sweeping political changes and the worst economy since the Great Depression, that commitment keeps their entire company focused on it's mission. It's a compass that guides them through challenging times and should be bearing for us all to keep in mind as we fight to restore and protect Lake Tahoe.

Check out the "Annual Environmental Initiatives Booklet" at:
http://www.patagonia.com/grants





Tahoe Divers Conservancy

When we are asked by tourists, "What do you see under there?" the most common response by divers with the Tahoe Divers Conservancy is "not much". Swimming among beautiful waves of granite boulders the size of houses, bright reflections of light from mica studded sandy lake bottom and a generally stark but surreal crystal environment. We often describe diving in the Lake Tahoe as Zen Diving.
In Tahoe we use diving as instrument of discovery, a mental discipline by which one attempts to get beyond the conditioned, "thinking" mind into a deeper state of relaxation or awareness. It is a psychophysical practice which leads to a greater focus and a more relaxed and peaceful frame of mind.
But now the underwater world of Lake Tahoe is disturbingly full of strange, new life.

In just a few years, the vast sandy nearshore that for centuries covered the bottom of Lake Tahoe have disappeared under a carpet of invasive plants. The change is not merely cosmetic. Invasive species are upending the ecology of Lake Tahoe, shifting distribution of species and starving familiar fish of their usual food supply.
Eurasian watermilfoil, Curlyleaf Pondweed and the Asian Clam are all found in Lake Tahoe now. And it is not just invasive plants. Scores of Brown Bullhead Catfish were found in Emerald Bay. Once confined to the Tahoe Keys and Taylor Marsh, non-native fish are propagating all over Lake Tahoe. Signs of the shift are hard to ignore now. Mats of dead, smelly plants are already washing ashore on Lake Tahoe's beautiful beaches, castoffs of a vast underwater expanse.

---
CURRENT PROJECTS
Roadwork for a Cleaner Lake

Did you know the road work happening around Lake Tahoe isn't just for the roads? Caltrans is building new storm drain systems and paving some shoulders to protect water quality. The new drainage system will capture stormwater runoff and filter out dirt, oil and litter before it gets to the lake.
Caltrans has organized a website with an interactive map to show locals and visitors alike where construction will be taking place and to help navigate them around possible delays.
Some traffic delays are likely so please allow few extra minutes. It's a small price to pay to protect Lake Tahoe for decades to come.
Click on the Following link to visit Tahoeroads.com to learn more about the construction project and possible delays
http://www.tahoeroads.com/
What is the Great Sierra River Clean Up?
The Great Sierra River Cleanup is the premier volunteer event focused on removing trash and restoring the health of waterways throughout the Sierra Nevada Region. This cleanup is an annual event coordinated by the Sierra Nevada Conservancy and held on the third Saturday of September from 9AM to noon in conjunction with the
California Coastal Cleanup Day. Join us this year on September 25, 2010! Last year more than 3,500 volunteers joined together to remove over 130 tons of trash and recyclables from Sierra rivers during the very first Great Sierra River Cleanup. More than 100 community groups spread across 22 counties and 500 river miles to pull appliances, cigarette butts, beverage cans, baby diapers, tires, furniture, and more from the rivers and streams that supply the State of California with 65 percent of its water. This effort, in partnership with the California Coastal Cleanup Day, serves to promote good stewardship on all of our waterways, from the source to the sea. The Tahoe Divers Conservancy coordinated last years event at Lake Tahoe and will again in 2010 work with the Sierra Nevada Conservancy for this great project.


Alpengroup working to restore native trout to the Tahoe Basin
Working with USFWS staff divers will conduct a ground truth survey that will substantiate the hydro-acoustic monitoring being conducted on the surface.
The Tahoe Divers Conservancy have conducted this type of survey for over 72 miles of the nearshore of Lake Tahoe and other Sierra Nevada Lakes, including work at Yosemite National Park and Grand Teton National Park in Jackson Hole Wyoming.
Listed as Endangered on October 13, 1970 and reclassified as Threatened in 1975.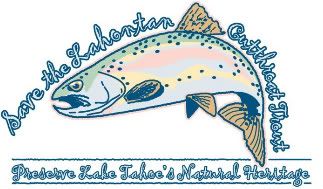 Life History:
Female sexual maturity is reached between the ages of three and four, while males mature at two to three years of age. Consecutive repeat spawning is rare. Like other cutthroat trout species, Lahontan cutthroat trout is a stream spawner, spawning between February and July. Spawning depends upon stream flow, elevation, and water temperature.
Distribution and Habitat:
Lahontan cutthroat trout, like other trout species, are found in a wide variety of cold-water habitats including large terminal alkaline lakes (e.g., Pyramid and Walker lakes); alpine lakes (e.g., Lake Tahoe and Independence Lake); slow meandering rivers (e.g., Humboldt River); mountain rivers (e.g., Carson, Truckee, Walker, and Marys Rivers); and small headwater tributary streams (e.g., Donner and Prosser Creeks). Generally, Lahontan cutthroat trout occur in cool flowing water with available cover of well-vegetated and stable stream banks, in areas where there are stream velocity breaks, and in relatively silt free, rocky riffle-run areas.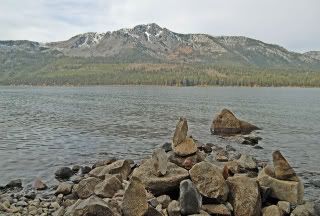 The Lahontan cutthroat trout is endemic or native to the Lahontan basin of northern Nevada , eastern California , and southern Oregon. In 1844, there were 11 lake dwelling populations of Lahontan cutthroat trout and 400 to 600 steam dwelling populations in over 3,600 miles of streams within the major basins of Lake Lahontan.
Lahontan cutthroat trout currently occupy between 123 to 129 streams within the Lahontan basin and 32 to 34 streams are outside the basin, totaling approximately 482 miles of occupied habitat. The species is also found in five lakes, including two small populations in Summit and Independence Lakes . Self-sustaining populations of the species occur in 10.7 percent of the historic stream habitats and 0.4 percent of the historic lake habitats.
Threats:
As subpopulations of the species become isolated due to physical and biological fragmentation, migration rates decrease, local extirpation may become permanent, and the entire population may move incrementally toward extinction. Maintaining a networked population may provide the ability to recover LCT without having to establish fish in every tributary as well as establishing self-sustaining lake populations for long term persistence. Although the presence of non-native species have dramatically altered aquatic ecosystems, hybridization and competitive interaction between lake dwelling LCT and non-native species is not well understood.
Click the links on the right to learn more about our current projects and partnerships.
Alpengroup presents Mountain Forum in Beijing, China
PRINCIPLES OF SUCCESSFUL ALL-SEASON MOUNTAIN RESORT DEVELOPMENT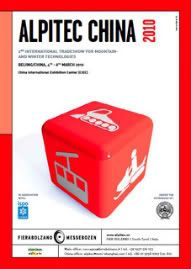 Beat vonAllmen: "Smartmaps" Finding the right terrain: modeling of ski terrain suitability and use of Google Earth.
Harry Measure: "Mountain Resort Evolution" ….. Whistler to Tahoe.
Pierre Diener: "Alpine Ambiance" Review of successful all season mountain resorts.
Amadé Perrig: "All season planning: Practical experience" Zermatt, Switzerland
Dick Bass: "Reaching Higher Grounds" Inspiration
Phil Caterino: "Sustainable Thresholds for Resort Development" Mountain Forum


Due to the fast-growing Chinese economy and the increasing wealth of the Chinese people, more and more winter sports enthusiasts can be found in the country. The number of ski regions as well as the counts of participants involved in winter sports have grown rapidly. It is therefore high time for the some two hundred ski regions
(most of which still operate on a small scale) to improve their quality. Alpitec China is the only business-to-business tradeshow in Asia offering a comprehensive platform to the winter technologies market.
"It is estimated that the number of Chinese winter sports enthusiasts grows by more than 700,000 every year, and it should rise to a total of around ten million skiers within the next five years," said the Austrian trade commissioner in Beijing. "This is the right moment for the European winter sports industry to launch in the Chinese market and to set new standards for the future on a worldwide level."
Email our project director for information on Alpengroup.
To learn more about how to PROTECT LAKE TAHOE click on the following link